Construction Injury Attorney Serving Charleston, SC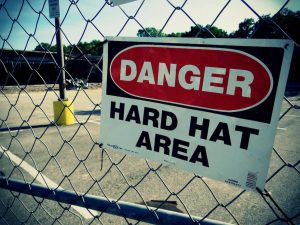 Construction is one of the most dangerous occupations in the United States. The injury rate for construction workers is higher than almost any other occupation.
In 2014, 874 construction workers died in workplace injuries across the United States, representing more than 20% of all worker fatalities in private industry that year. In addition, these accidents resulted in 600 deaths, 2,700 injuries, and nearly $40 million dollars in property damage. The only industries with a higher fatality rate are agriculture, forestry, fishing, and hunting.
Common Construction Injuries
The four most common categories of construction injuries are: falls, electrocutions, struck by an object, and caught in/between.  These types of injuries, referred to as the "fatal four," account for more than 55% of all injuries on construction worksites.
"Falls" refers to injury due to falling from any high structure on the worksite, including scaffolding, ladders, and roofs. In 2014, falls accounted for an extraordinary 40% of injuries on construction sites.
"Electrocution" refers to electrocution by any means, including by overhead power lines, electrical wiring, and defective or improperly maintained equipment.
"Struck by object" refers to injury caused by being struck by any type of object, including motor vehicles and falling tools.
"Caught in/between" refers to an injury in which the harm is caused by a worker being caught between two objects, for example, where a workers hand is caught in a machine.
Common types of construction injuries include:
Broken bones
Eye injuries
Hearing loss
Heat stroke
Lacerations
Limb or digit loss
Paralysis and other spinal cord injuries
Joint and muscle injuries
Toxic chemical exposure
Vision loss
Attorney Richard Hricik has represented numerous individuals and their families injured on construction sites. Richard can investigate the circumstances of your accident and make sure that you receive fair compensation for your injuries. Contact Richard at the number above or using the form down below to obtain a free initial consultation.
OSHA Safety Regulations
Construction injuries may be the inevitable result of workplace safety standard violations by employers. Several OSHA regulations impose safety standards on the construction industry. For example, regulation 26 CFR 1910.1200 imposes a number of requirements on employers related to protecting workers from falls and falling objects. Among other requirements, it requires that an employer ensure that walking/working surfaces on which its employees are to work have the strength and structural integrity to support employees safely. It also requires guardrail systems, safety net systems, personal fall arrest systems, and controlled access to work zones under certain circumstances.
OSHA regulations and other safety requirements have been incredibly successful in reducing accidents in the workplace. According to OSHA, since 1970, both workplace fatality rates and occupational injury and illness rates have fallen by two-thirds. Deaths are down from about 38 worker deaths a day in 1970 to 12 a day in 2014, even as U.S. employment increased nearly 100%. Nevertheless, unsafe workplace conditions are still responsible for too many injuries and illnesses every year, around 3.3 per 100 workers.
OSHA regulations applicable to the construction industry include:
According to OSHA, the most commonly violated OSHA standard is fall protection.
Resources Related to Construction Injuries