Motorcycle Accident Injury Lawyer Serving Charleston, SC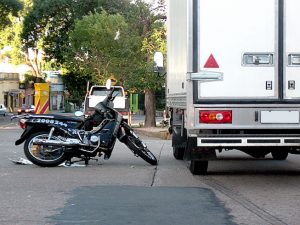 According to the National Highway Traffic Safety Administration (NHTSA), motorcyclists are about five times more likely than car occupants to be injured in a crash (per vehicle mile traveled).
A motorcycle accident can have a devastating impact on your personal finances. In 2010, motorcycle accidents resulted in 751 hospitalizations and 2,963 emergency department visits in South Carolina costing $73.7 million. The average bill for a hospital stay was more than $78,000 while the average emergency room bill bill was nearly $5,000. Common types of injuries sustained in motorcycle accidents include:
head, chest, and abdominal injuries
traumatic brain injury (TBI)
fracture of any of a number of bones, including in the arms, chest, pelvis, legs, ankles, and feet
damage to the nerves in the arms (biker's arm) caused by bracing against impact
road rash
In addition to immediate charges for medical care, you may also face lost wages due to missed work, permanent injury, loss of future earning potential, ongoing medical care, and other consequences.
If you have been involved in a motorcycle accident in South Carolina, you need experienced legal representation to ensure that you receive a fair settlement that compensates you for all costs that you have incurred and will incur in the future. The Law Offices of Richard A. Hricik has experience negotiating with and litigating against insurance companies on behalf of injured motorcyclists. Contact Richard Hricik at the number above or using the contact form on this page to obtain a free consultation now.
Resources Related to Motorcycle Accidents in South Carolina
Other Information on Motorcycle Accidents