Truck Underride Accident Lawyer in Charleston, SC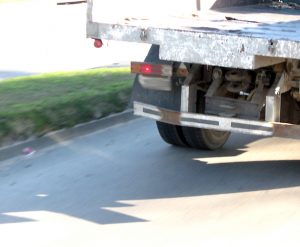 A truck underride accident refers to a situation in which a passenger vehicle rear-ends a truck and slides underneath the back of the truck. To prevent this type of accidents, trucks are required to be equipped with rear impact guards, which extend down from the back of a truck trailer. However, these guards have not proven to be entirely effective. In one test by the Insurance Institute for Highway Safety (IHHS), the rear guard failed when struck by a recent model sedan traveling at a mere 35 miles per hour, causing the car to slide under the back of the trailer.
Rear Guard Failure
When a guard fails, the front-end of a passenger car is unable to absorb the momentum of a crash as it was designed to do. Such accidents often lead to serious injury or even death because of the likelihood that the truck trailer will strike the passengers' upper bodies.
The video below shows the dangers of an inadequate underride guard:

Despite the inadequacy of some guards used in the United States, it is possible to design a stronger guard. For example, Canada requires guards that are 75% stronger than the guard tested by the IHHS. In another test conducted by the IHHS, a Canadian-compliant guard did not fail when struck by a sedan also traveling at 35 miles per hour.
If you have been injured in a truck underride accident in South Carolina, you should contact the Law Offices of Richard A. Hricik. Richard Hricik is familiar with the types of issues that arise in truck underride accidents and can identify areas where a truck driver or affiliated company may have failed to observe truck safety regulation or may have fallen below the standard of care that the law requires all professional truck driver to observe. Richard can also identify all companies and entities that may be liable to you for your injuries and then negotiate a settlement or settlements on your behalf to fairly compensate you for your losses.
Resources for Truck Underride Accidents
More Information Related to Truck Accidents in Charleston, SC
Corporate Liability for Accidents
Causes of Semi-Truck Crashes
Federal Truck Safety Regulations
Inadequate Driver Training
Jackknife Truck Accident
Overweight Trucks
Poorly Maintained Trucks
Rear End Collisions Involving Trucks
Stopping Distance of Commercial Trucks
Truck Black Boxes
Truck Driver Fatigue
Wide Turn Truck Accidents